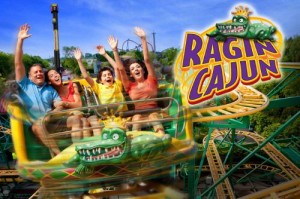 Six Flags America today announced a new Mardi Gras section of the park along with the addition of two exhilarating new rides. Ragin' Cajun, a spinning, fast-track roller coaster, will be the theme park's 9th roller coaster. Ragin' Cajun will be joined by a new family-friendly, flying ride dubbed French Quarter Flyers. Both attractions will be located in the festive new Mardi Gras section of the park.
Guests will discover a celebration every day as snappy jazz and zydeco tunes pour into the streets of Mardi Gras. The entire area will be a party inspired by the energy of New Orleans with delicious foods, exciting games, tasty beverages and fun retail items to match the lively spirit of the South.
"Not one, but two new rides and a completely new look will bring the celebratory style of the Big Easy to Six Flags America," said Rick Howarth, park president. "The new Mardi Gras area marks a considerable expansion to our excellent collection of rides and a major enhancement to our theming."
Ragin' Cajun is a fast track roller coaster that twists, turns and tilts as groups of four riders zigzag through 1,378 feet of dizzying 360° spins, breathtaking drops, sudden twists and erratic speeds. The roller coaster's uniquely-designed train spins independently as it zips through a course as wild as its name and will add a new and adrenaline-charged ride experience to the existing coaster collection.