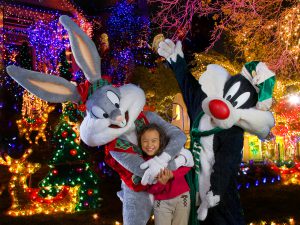 This winter, the Santa tracker will have a new destination: Six Flags America, just minutes from Washington, DC. Millions of glittering lights, dazzling holiday entertainment, delicious seasonal treats, Santa's Village, and many popular rides will magically transform the popular theme park into a winter wonderland for the region's first-ever Holiday in the Park® celebration. The park will be open weekends and select days November 19 through January 2, 2017, giving visitors a completely new way to enjoy the most magical time of year.
Holiday in the Park will provide an escape from the hustle and bustle of the shopping rush, and a way for guests to create their own magical, memorable holiday moments. A visual feast will await just inside the gates, as six areas of the park undergo a massive makeover that showcases the world's best holiday traditions. Each area will be an emotional journey and bring the warmth of the season to guests in an entirely new way.
"Holiday in the Park will be a winter spectacular on every family's must-do list and is included with every season pass and membership," said Six Flags America President Rick Howarth. "We have invested years of research into making this the most incredible and immersive seasonal experience it can be, combining holiday traditions with thrills that are uniquely Six Flags."
Stunning light displays; illuminated, towering trees; the iconic smells of fresh pine and crisp peppermint filling the air; and festive vendors offering sweet and savory treats will provide a multi-sensory journey of winter delights. Kids can join Santa in his workshop for a fun photo opportunity. A new entertainment program will feature a grand stage production, hilarious stunt show, live carolers and of course a special show just for kids.