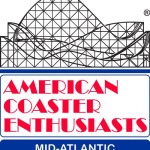 If you read Regional Represenative Elizabeth Ringa's From the Backseat about her goals and visions for the new year, you'll know that we're looking for this year to be the YEAR OF INSPIRE. And what better way to inspire than with a list of all our upcoming events for 2016. We have many of our favorites planned, as well as a few new surprises.
February 21st – Jeepers, It's Winter at Central Park Fun-land
Our first event of the season will be our warming up after a brutal and cold January. Expect to experience their new laser tag and the best kiddie coaster the Fredericksburg area has to offer.
March 6th – ACE Day at Wisp Mountain Resort
In the outskirts of Maryland lies the only alpine coaster in the region. Experience the thrilling, cool rush of this unique ride.
April 2nd – Jeepers, It's Spring at Six Flags America
We've moved our traditional winter event to the spring time. Many delighted in the date change last year as it allowed for warm weather rides and backstage tours of the coasters.
June 3rd – Twas the Night Before at Go Karts Plus in Williamsburg, Virginia
One of our new outings this year, we've planned a pre-event at this little, fun joint to coi Continue reading →