Busch Gardens Williamsburg Reveals New Launch Coaster Pantheon
MMXX has been revealed! Pantheon is speeding into Busch Gardens Williamsburg in 2020 as the fastest multi-launch coaster in North America. In true Busch Gardens style, theming is essential. Pantheon will feature the combined power of five Roman Gods – Minerva (3 forward launches), Pluto (inversions), Mercury (reverse launch), Neptune (178-foot spike), and Jupiter (95-degree drop).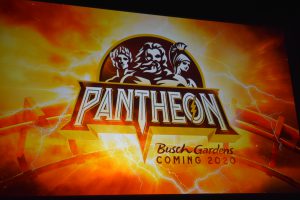 What can you expect from Pantheon? Non-stop action was my first thought after viewing the blueprint.  With a top speed of 72.5 mph after the top-hat portion of the ride, it will be the fastest multi-launch coaster in North America. According to Larry Giles, Senior Director, Design & Engineering, "We've designed it so that the experience is changing all the time and will keep riders wondering what's next."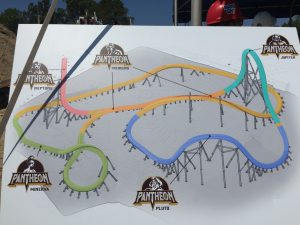 Riders will enjoy two inversions, four launches both forward and backward, and a 95-degree drop. The two highest points of the ride are only a few feet in difference – the 95-degree drop and the reverse launch into the spike.
Pantheon will use Taron trains, and riders will be secured with a lapbar only.
Construction has begun on this Intamin Worldwide coaster, which will be in the Festa Italia portion of the park. On a tour during today's announcement, steel rebar could be seen throughout the construction site as well as a lot of dirt as the foundation portions of the ride are begin installed. No track or supports are on site yet.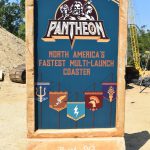 The coaster is located on the far side of the train tracks surrounded by the Rhine River, horse pastures, and the Italy Gardens of Flatrides on three sides. Much of the coaster will be alongside the Rhine River to enhance the already beautiful location.
Click here to watch a video of the announcement
Click here to take a behind-the-scenes look at the construction
– Elizabeth Ringas