Two New Additions for Coaster Lovers at Busch Gardens Williamsburg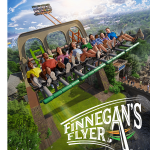 Did someone say coasters? Although neither of Busch Gardens Williamsburg and Water Country USA's new additions is a roller coaster, both offer some of those roller coaster features that we love so much.
Busch Gardens Williamsburg features a S&S Worldwide Screamin' Swing, Finnegan's Flyer. It's not just an airtime monster, but a beautiful addition to the Ireland area with fantastic theming to blend it into the area. Beauty abounds in the view high over Ireland. Rising next to the Ireland bridge, riders are catapulted to 115 feet above the creek (80 feet above the loading platform) at 45 miles per hour. Two pendulum-like arms lift 32 riders to above 90 degrees. Want a more powerful ride? Ride in the orange arm, which has more propulsion due to the ride design.
Just a little west, riders can be found swishing down Cutback, the new Proslide RocketBLAST slide. This 850-foot slide features 3 drops and 5 flying-saucer turns where you will reach the maximum speed of 35 feet per second and all the g-forces you love in a helix. Cutback will power you downhill from the tower previously used by Meltdown. It is always admirable for parks to reuse old equipment to reduce the impact on the environment and the cost of installation. And are you ready to get wet? The RocketBLAST propulsion system will blast you uphill so that you can go down again using water sprayed into the pockets on the sides of the 4-person raft, so prepare for a quick cool down on a hot Virginia day.