Kings Dominion Debuts New "Hybrid" Roller Coaster Twisted Timbers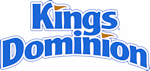 The wait is over for guests looking to get their thrill fix on Kings Dominion's newest roller coaster, Twisted Timbers. Wood and steel intertwine into twisting barrel roll drops, dynamic inversions and gravity-defying weightlessness on the park's newest coaster, which is set to open to the public on Saturday, March 24.
Twisted Timbers is an innovative hybrid coaster that uses the latest technology to combine wood supports with a steel track to give riders an exhilarating experience with maneuvers previously unimaginable on a traditional wooden coaster. The coaster was designed and built by Rocky Mountain Construction of 
Idaho
, a company renowned for reimagining wooden coasters. Features of the ride include:
109 foot tall barrel roll drop
Over 3000 feet of track
Top speed of 54 miles per hour
Three loops
Three overbanked turns
20 airtime moments
Twisted Timbers is located in the Candy Apple Grove section of the park and is themed to an abandoned apple orchard on the edge of town. The story behind the coaster is that an unknown force – supernatural or natural– destroyed the harvest years ago and froze the orchard in time; now the strictly "off-limits" orchard has reopened for tours, with the twisted ride as its highlight.