Six Flags America Announces New WONDER WOMAN Lasso of Truth to Open in 2017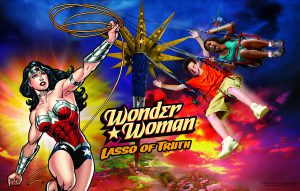 Six Flags America, in partnership with Warner Bros. Consumer Products on behalf of DC Entertainment, announced today a new addition to its already stellar lineup of thrilling rides and attractions. WONDER WOMAN Lasso of Truth, a 242-feet tall, sky-high swing ride and the tallest new attraction at the Nation's Capital of Thrills will open in 2017.

Based on the world's most iconic female Super Hero, WONDER WOMAN Lasso of Truth is an extreme swing ride that spins guests in a 98-foot circle at speeds of 40 miles per hour atop a24-story tower. With a capacity of thirty-two riders, guests sit two across in open-air swings as they climb to the top of the tower while spinning round and round, offering a breathtaking view while soaring high above the beautiful Maryland and D.C. landscape.

"We are thrilled to announce a new experience that will take our guests to new heights at Six Flags America," said Rick Howarth, park president. "At 242 feet tall, WONDER WOMAN Lasso of Truth will be the tallest structure at Six Flags America and the first to feature the most famous heroine of all time."
WONDER WOMAN Lasso of Truth will join SUPERMAN Ride of Steel, Batwing and JOKER's Jinx in offering thrilling experiences based on the world famous DC Super Heroes and Super-Villains. The colossal tower will be visible from every location in the park and will become a new iconic symbol of thrilling fun for guests of all ages.