Busch Gardens Williamsburg Retains Honor As "World's Most Beautiful Amusement Park"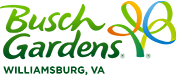 Busch Gardens Williamsburg has earned the distinction of "World's Most Beautiful Amusement Park" for the 26th consecutive year.
The National Amusement Park Historical Association recently bestowed the honor upon Busch Gardens, continuing an annual tradition that dates back to 1990.
"This is a great honor for Busch Gardens and the team members who work so hard to ensure that our park is looking beautiful for our guests every day," said Busch Gardens® Williamsburg President David Cromwell. "To continue the tradition of being recognized for this honor is something we're very proud of."
The award was part of the 30th annual NAPHA Amusement Park and Attractions Survey, the oldest of its type.
The NAPHA is an international organization dedicated to the preservation, documentation and enjoyment of the amusement and theme park industry—past, present and future.