ACE Mid-Atlantic Opens Registration for Kings Dominion and Six Flags America events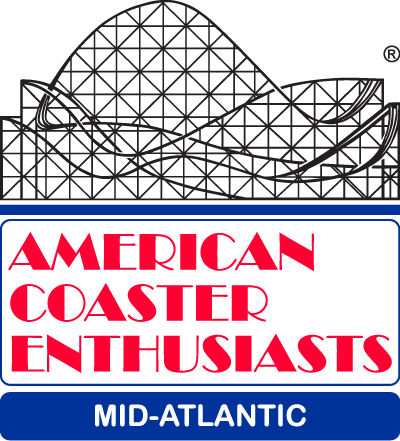 Some of the best coasters in the ACE Mid-Atlantic region will be showcased in two seperate events on Saturday, October 11 and Sunday, October 12, the traditional weekend of ACE Mid-Atlantic's Fall Thrillfest and Celebrate America events.
ACE Mid-Atlantic Assistant Regional Representative Stephen Peeples has been working with Kings Dominion to put together an exciting Fall Thrillfest event in the Mid-Atlantic Region.  Your day of fun at Kings Dominion includes:
One hour of ERT that includes Dominator, Intimidator 305 and Volcano: The Blast Coaster

"Informal Takeover Time" (ITOT) on the rest of the roller coasters in Kings Dominion.

Our Traditional "Boo Blasters on Boo Hill" tournament and Whac-A-Mole Competitions.

Picnic Lunch with complimentary beverages and door prizes.
Q&A with park management.

Exclusive Haunt Time in Club Blood and Maze of Madness mazes.

Early Seating for the high flying Kings Dominion production of Skeleton Crew. Watch an amazing team of acrobats as they are joined by Skeletons for this "cirque style" show.

Special Discounts on the following attractions:

Go Karts $4.00 per driver until 1pm

Sky Flyer $10 per flyer until 1pm

One Free Emailed Ride Photo with the purchase of any printed photo
RIDE ON! With ACE Mid-Atlantic and Kings Dominion on Saturday, October 11. Links to the Event Flier and and Online Registration are below.
On Sunday October 12, the day after Fall Thrillfest at Kings Dominion, is ACE Mid-Atlantic's Celebrate America event at Six Flags America. 
Six Flags America has been working with ACE Assistant Regional Representative Wesley Friend on an exciting event that saves ACE Members money and provides ERT on the park's newest and most exciting rides and roller coasters.  ACE Mid-Atlantic's Day at Six Flags America includes:

If you haven't already purchased your 2015 Six Flags Gold Season Pass, Six Flags America is offering ACE Members the opportunity to purchase their Six Flags Gold Season Pass with no minimum purchase requirement. You must take advantage of this offer before morning ERT starts on the day of the event! ACE Members can purchase a Six Flags Gold Season Pass for $54.99+tax and if you have a Discover Card, you can get 5% cash back on your purchase (remember, that is cash back from Discover, not from Six Flags at the time of purchase)

Show your ACE Membership Card to the parking lot attendant and get free parking the day of the event provided you enter the parking lot before 

11:00am

.

One hour of Morning ERT that includes Wild One, Ragin' Cajun and French Quarter Flyers.  

A delicious lunch that includes Oven Roasted Chicken Quarters, Italian Sausages with Peppers, Rotini Pasta, "Premium" Salad Bar, Ice Cream Dessert and complimentary Coca Cola beverages will be served in the Oak Grove Picnic Pavilions from 

1:00 until 2:30.  

Q&A with Park Management and Door Prizes  

Photo Opportunity with one or two of the parks "scareactors" from Six Flags America's award-wining Entertainment Department.

Join your ACE friends in the Heritage House Food Court at 

5:00

(this is optional, not included in the price and not a catered meal) for dinner before we head over to "The Awakening" at 

5:45

.

If you purchase your Extreme Scare Pass when you register for the event, you get 1/2 off the price of an Extreme Scare Pass.

Backstage Tour of Monster Factory

VIP Seating for a Joe Romano Magic Show

VIP Seating for the 2014 Six Flags America Fright Fest Stunt Show – Blood Moon

Exclusive Haunt Time in Six Flags America's newest haunted maze VooDoo Curse!

One hour of Night ERT on Superman: Ride of Steel (from 

9:00pm-10:00pm

).
Go Big! and Ride with ACE at Six Flags America on Sunday, October 12.  Your ACE Regional Representatives want to see you on the midways of Kings Dominion and Six Flags America.
Kings Dominion Event Flier
Kings Dominion Online Event Registration
Kings Dominion Facebook Event Page
Six Flags Event Flier
Six Flags America Online Event Registration
Six Flags America Facebook Event Page