Six Flags America to Open Bourbon Street Fireball in 2015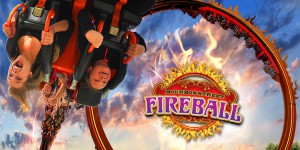 Six Flags America today announced the addition of its 10th roller coaster, Bourbon Street Fireball, which will stand a stunning seven stories tall and reside in the new Mardi Gras section of the park.
"The addition of our tenth roller coaster, Bourbon St. Fireball, takes the nail-biting anxiety of coaster riding to a totally new level," said Rick Howarth, park president. "This new coaster is the perfect complement to the new Mardi Gras section that opened earlier this year to rave reviews and promises to offer thrilling experiences for our guests each season."
Bourbon Street Fireball adds a unique ride experience to Six Flags America:
Loop coaster seating 24 passengers
Seated in forward and backward, face-to-face position
Pendulum style takeoff with multiple 360⁰ revolutions
Train reverses course mid-ride for addition 360⁰ revolution
Seven-stories tall
Approximately two minute ride time
Bourbon Street Fireball is one of three new roller coasters to be added to the park in four years. In 2014 Six Flags America added its ninth roller coaster, Ragin Cajun. Apocalypse, Maryland's only standing roller coaster, was the parks eighth roller coaster and it opened in 2012.