Kings Dominion is Celebrating 40 Years of Family Fun, Thrills and Memories in 2014
DOSWELL, VA (September 12, 2013) – Kings Dominion turns back the clock as the park announces plans for a celebration four decades in the making. This once in a lifetime event will include many surprises, the return of classic park icons and a chance to create new traditions and memories with your family. The celebration will begin next season to commemorate Kings Dominion's grand opening in 1975.
"As a native Richmond resident, I grew up not only visiting Kings Dominion, but also started my career here as a seasonal associate," said Pat Jones, Kings Dominion's Vice President and General Manager. "I have 40 years of fond memories and I am thrilled to share some of these exciting moments with our guests during our special 40th Celebration."
The central piece of the 40th Celebration will be the introduction of "Ruby", a custom painted 40th Celebration horse. "Ruby" will be added to the park's historic Carousel, which dates back to 1917. The Carousel has operated at Kings Dominion since the park opened in 1975.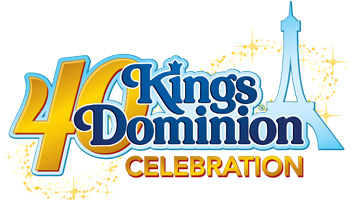 Those who grew up with Kings Dominion will also notice the return of many original park icons next season, including:
The homecoming of the park's classic blue ice cream, which was a hit with families for decades.
A complete restoration of the iconic International Street fountain, which will include a new LED lighting package and additional refurbishments.
Reintroduction of one of the park's original classic midways, Candy Apple Grove. This re-themed area will include new ride lighting packages, return of the classic over-sized candy apples along the midway and other surprises.
The return of Safari Village (formerly the Congo area of the park) and will include exciting improvements to Volcano: The Blast Coaster and one of the park's older roller coasters, Anaconda.
In the coming months, Kings Dominion will also make many more exciting announcements as part of this thrilling celebration. Follow Kings Dominion on Facebook and on Twitter to be the first to hear about the latest news from Kings Dominion.
Kings Dominion Announcement Video