Six Flags America to Open New Mardi Gras Themed Area Featuring Two New Rides for 2014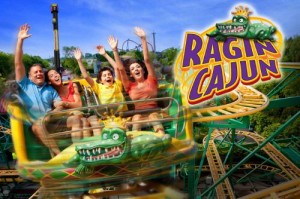 Six Flags America today announced a new Mardi Gras section of the park along with the addition of two exhilarating new rides. Ragin' Cajun, a spinning, fast-track roller coaster, will be the theme park's 9th roller coaster. Ragin' Cajun will be joined by a new family-friendly, flying ride dubbed French Quarter Flyers. Both attractions will be located in the festive new Mardi Gras section of the park.
Guests will discover a celebration every day as snappy jazz and zydeco tunes pour into the streets of Mardi Gras. The entire area will be a party inspired by the energy of New Orleans with delicious foods, exciting games, tasty beverages and fun retail items to match the lively spirit of the South.
"Not one, but two new rides and a completely new look will bring the celebratory style of the Big Easy to Six Flags America," said Rick Howarth, park president. "The new Mardi Gras area marks a considerable expansion to our excellent collection of rides and a major enhancement to our theming."
Ragin' Cajun is a fast track roller coaster that twists, turns and tilts as groups of four riders zigzag through 1,378 feet of dizzying 360° spins, breathtaking drops, sudden twists and erratic speeds. The roller coaster's uniquely-designed train spins independently as it zips through a course as wild as its name and will add a new and adrenaline-charged ride experience to the existing coaster collection.
The young and fun at heart will love French Quarter Flyers, a family ride that will delight both kids and adults. This new attraction features eight individual flying cars. Each vehicle has a stationary rear wing and a moveable front wing and can travel at speeds up to 40 miles-per-hour. Guests will be the pilots and control their own riding destiny as they pump up the thrill for a more intense wild flight or simply sit back, take it easy and enjoy the ride.
Ragin' Cajun and French Quarter Flyers are the first of their kind at Six Flags America, adding diverse new thrills found nowhere else in the region.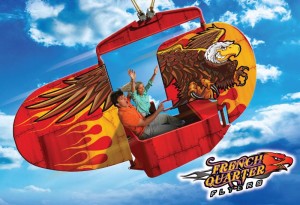 In addition to the new rides and improvements, Six Flags America is preparing to launch the park's biggest and scariest Fright Fest ever featuring "Thrills by Day" and "Fright by Night".  The daylight hours will be filled with thrilling rides and fun-filled shows, but as the sun sets the park quickly turns to the dark side.
With five new, ultra-scary haunted attractions, Fright Fest is the ultimate terrifying experience. Fright Fest begins Saturday, September 28, 2013 and operates every weekend until October 27, 2013.
Six Flags America also announced today that 2014 Season Passes are now on sale at the lowest price of the year providing unlimited visits for the rest of the 2013 season (including Fright Fest) and all of the 2014 season. For a limited time, with the purchase of four or more season passes, guests will receive a free upgrade to a Gold Season Pass that includes free admission and free season parking at any Six Flags Theme Park. Annual Memberships, which include all of the great benefits of a Season Pass, are also available online at an affordable monthly price. Offer expires October 27, 2013.